YHD Lab Tables at Psi Chi Lab Fair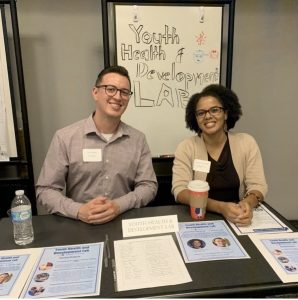 Dr. Aerika Loyd and Tate LeBlanc teamed up to chat with undergraduates, and fellow psychology labs, at the Psi Chi Lab Fair on November 22, 2019.
The Psi Chi Lab Fair, the first of a quarterly series during the 2019-20 academic year, invites labs from all over the psychology department to convene and connect with undergraduate students. Many students use it as an opportunity to identify labs they may want to pursue research with.
Dr. Loyd and Mr. LeBlanc got a chance to highlight some of the lab's current and upcoming projects. They also announced that they would be accepting undergraduate research assistants in Spring 2020. More than 50 students expressed interest in the lab's projects and the possibility of submitting an RA application.
As stated on the UCR website, Psi Chi is an "international honor society whose purpose shall be to encourage, stimulate, and maintain excellence in scholarship of the individual members in all fields, particularly in psychology, and to advance the science of psychology."
Applications for undergraduate RAs are now being accepted for Spring 2020. The submission deadline is currently set for Sunday, February 23, 2020.
November 22, 2019